posted by Tree Frog Treks! on Oct 27
Ok, so this weeks post is going to serve a couple of purposes, 1. Is to tell all you folks out there that there will be a new person posting the blog entries, so things may look a little different and bare with us if anything doesn't work properly and 2. To tell you that this week our teachers have been spreading the knowledge all about nocturnal creatures. We do this every year at this time to tie in to the wonders of Halloween.
As you can imagine there is a treasure trove of learning to be delved into concerning nocturnal animals and their adaptations to life in the dark. We will be teaching all about the super senses that nature has equipped the night dwellers with such as improved sight and hearing, as well as a keen sense of touch. Finding out that lots of nocturnal animals come from very warm countries and they sleep, hidden away, during the hot daytime and come out at night to hunt and forage for food. Learning how some animals try to avoid certain predators by only being active in the dark and conversely how nature has also made quite a few specialized nocturnal predators as well.
The picture above is of one of our Green Tree Pythons (Morelia or Chondropython viridis) These snakes are almost entirely nocturnal and arboreal (lives in the trees). They are equipped with special pits along their lips that are heat sensitive. These act like infrared vision, allowing them to 'see' their prey by its body heat, they can detect changes in temperature of as little as a 100th of a degree. This is very handy when you are trying to catch a rat, bird or bat while hanging from a branch in the middle of the night.
So, Happy or Spooky Halloween to you all. Have a safe and fun time Trick or Treating.
Here are some more of Tree Frog Treks nocturnal creatures.
Another Green Tree Python (Morelia or Chondropython viridis)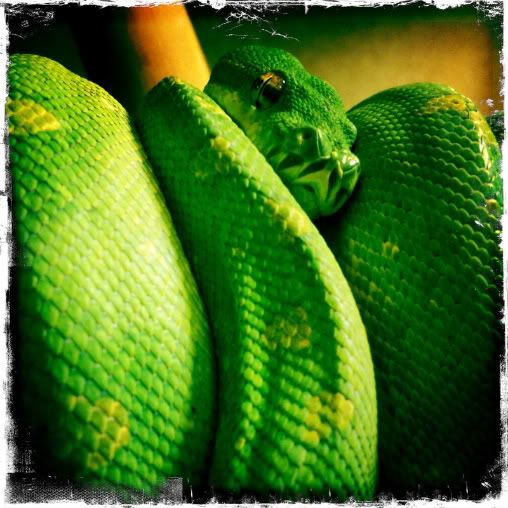 A Whites Tree Frog (Pelodryas caerulea)

A Tokay Gecko (Gekko gekko)

Photo Credit: Ross Beswick